Prada
The most generous choice of colours and shapes
All Eyes is pleased to bring you a huge range of authentic Prada designer glasses. As one of the world's oldest, leading luxury labels, Prada has proven its ability to constantly innovate and create fashion trends. Miuccia Prada is the most powerful designers in fashion with a particular interest in "traditional craftsmanship and the use of local materials and workmanship techniques". You're therefore guaranteed exceptional quality in line with modern, elegant styling – and that's exactly why this Italian designer label is one of the most popular brands at our Cambridge factory shop.
The most popular products from the Prada collection includes:
Best Sellers
Prada Millenials Havana/Red
from £149 incl Prescription Lenses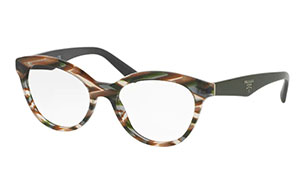 Prada Heritage Grey Brown
from £149 incl Prescription Lenses
Prada Conceptual Havana
from £149 incl Prescription Lenses
Come and see us in our showroom, we've hundreds of styles to try
Prada appreciates just how important it is to find quality glasses that deliver both form and functionality, and with such a medley of designs and finishes, it becomes a lot easier to find the right addition for your personality and lifestyle, whilst complementing your face shape. Many of Prada's unique designs can seen on the catwalk and in the streets, whilst the Heritage Collection is very popular among our customer base, offering designer glasses with clean lines, yet still flaunting the classic Prada shapes and styles.
Need help finding your perfect spectacles, All Eyes is on hand to help.
We would be more than happy to take the time to talk you through particular lens options to match your prescription and lifestyle.
Get in touch